Best Cloud Storage For Mac And iphone !!! *Also Available For Android And PC
Hi lads, I personally use Pcloud Cloud storage for my 'Danny Boy Limerick' website to link content/material, for my work (Website Design) and personal use. As an avid user for the last 5 years I find Pcloud to possess some great functionality and overall knowledge of modern cloud storage technology equipped with some neat features including cross platform capabilities, running on multiple devices simultaneously syncing across multiple operating systems. The graphic user interface (GUI) is second to none with a real nice user friendly design and finish, that's the reason I decided to become an ambassador for Pcloud and hope to get a little help from affiliates so as to maintain and keep the website going indefinitely, You can support the Danny Boy Limerick website through the affiliate links below:
pCloud has quickly become a popular option for cloud storage among iOS and Mac users, offering up to 20GB for free and options for up to 2TB at low monthly, yearly and lifetime rates with no limits on file sizes or upload and download speeds. The optional Crypto service adds an additional layer of client-side encryption that has made the secure Swiss cloud storage company attractive to many users.
Let's take a look:
Mac and iOS users will appreciate a super easy to use experience built specifically with iPhones, iPads and Macs in mind. There are apps for the web, iPhone and iPad, and a pCloud Drive app for Mac makes the cloud service integrate with Finder for managing files locally.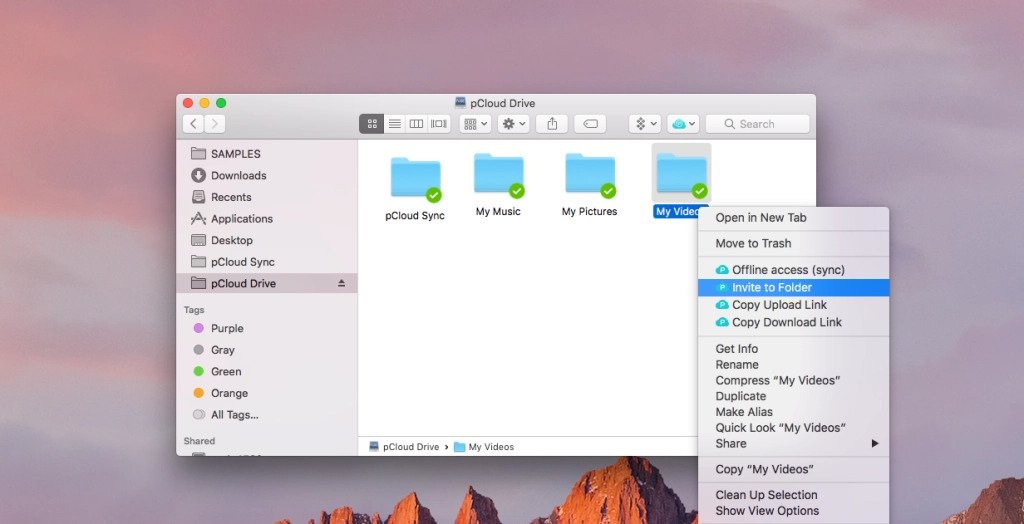 You'll find the usual cloud storage features for file management and sharing, including the ability to create sharing links, but Mac users should especially notice the slick integration with Finder for local file management. As pictured above, once you install the pCloud for Mac app, all of your files and folders are accessible via a virtual drive in Finder where you can easily drag and drop files to and from your machine as well as right-click to quickly get sharing options and links. That effectively allows you to add up to 2TB to your Mac (and iOS device), allowing you to access files and even view media directly from pCloud in your Finder without having to take up local storage.
In addition, included is a fast and reliable Sync feature that lets you sync folders from pCloud to your local storage to ensure any changes are automatically updated on both sides. This also allows access to files even when in offline mode.
Another really interesting and useful feature that separates pCloud from other cloud storage services is its rewind feature that allows you to restore an old state of your account. In addition, an extended files history feature can allow you to individually bring back files you've deleted from pCloud. An option in pCloud's settings also lets you enable automatic uploads of screenshots you take on your Mac.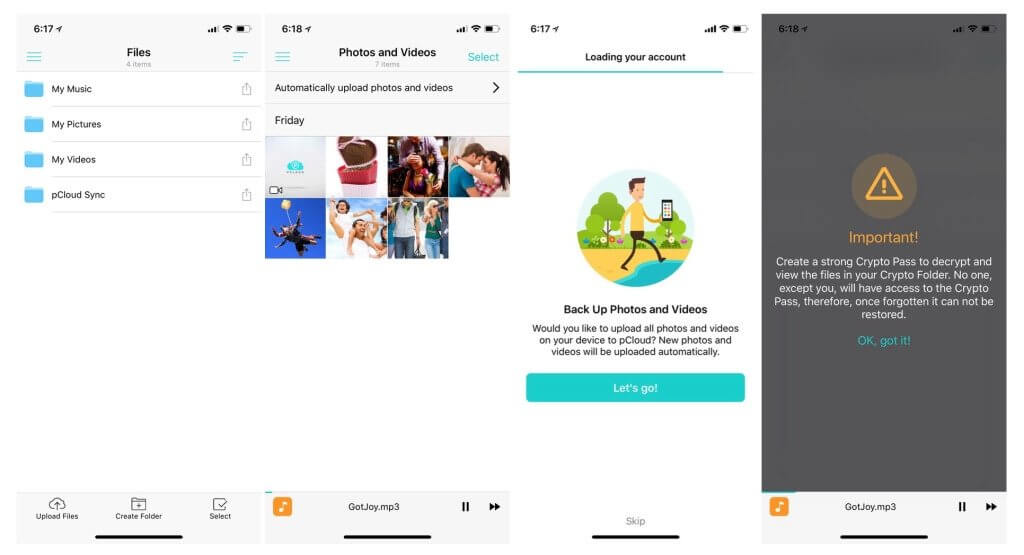 For iPhone and iPad users, pCloud's iOS app offers integration with Apple's new Files app introduced with iOS 11, making it easy to get any files or folders to and from pCloud and apps on your device. Also included is automatic upload for backing up your photos and videos from your iPhone camera roll seamlessly to pCloud. This feature allows you to automatically delete photos from your phone so they are only taking up storage in pCloud, and you can instantly access them from pCloud on the web or your Mac.
pCloud on the web and the iOS apps include native audio and video players (as well as ePub support) so you can quickly view media files stored in the service without having to move or download them. You can also create playlists and listen to audio playback in the background (including FLAC file support), so you can effectively use the service for viewing media without ever having to take it out of the cloud.
In addition, you'll have the ability to set passwords with expiration dates for shared links, and a unique upload link makes it easy to have friends or colleagues upload files to your pCloud without an account or a complicated process to grant them access.
To Support The 'Danny Boy Limerick' Website Through Affiliates/Referrals, Simply Choose From One Of The Following Pcloud Packages Below 👇👇👇
Thank You For Your Ongoing Support 🇮🇪💚☘️

"Lets keep on helping others to wake nations, this is a war on humanity and nature by the financial corporate interests under the guise of a fake virus plandemic"
Danny Boy Limerick
Website, Landing Page + Resources
🇮🇪💚☘️
#OpWeCanSeeYou #DannyBoyLimerick #TheMostCensoredManInIreland