• The Black Nobility /Papal Bloodlines •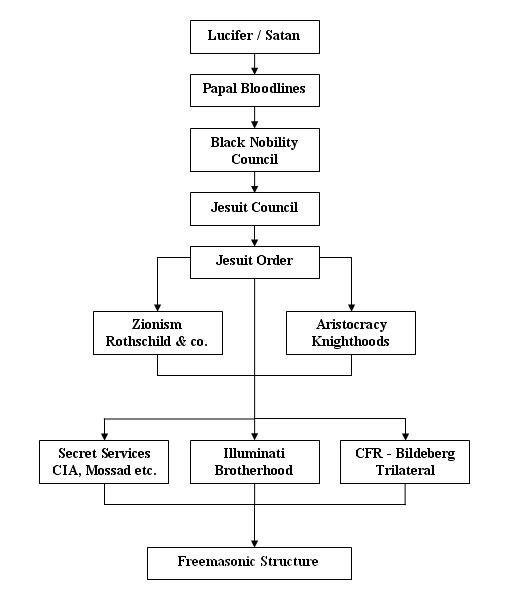 The Real Families, who from behind the scenes, control the World through Religion, Finance, Property, Land, and through control and manipulation of the Markets of the World are the Black Nobility /Papal Bloodlines. Not the Rockefellers or the Rothschilds or the Bush/Clinton Regime, those are all lower on the totem pole subservient to the papal bloodlines of the jesuits/black nobility.
The Black Nobility/Papal Bloodlines are the founders of the secret society of our day from which all the others that are connected to and originated from — the Committee of 300, The Club of Rome, the C.F.R., the R.I.I.A., the Bilderbergers, the Round Table… all originate from the Committee of 300 and therefore from the European Black Nobility families.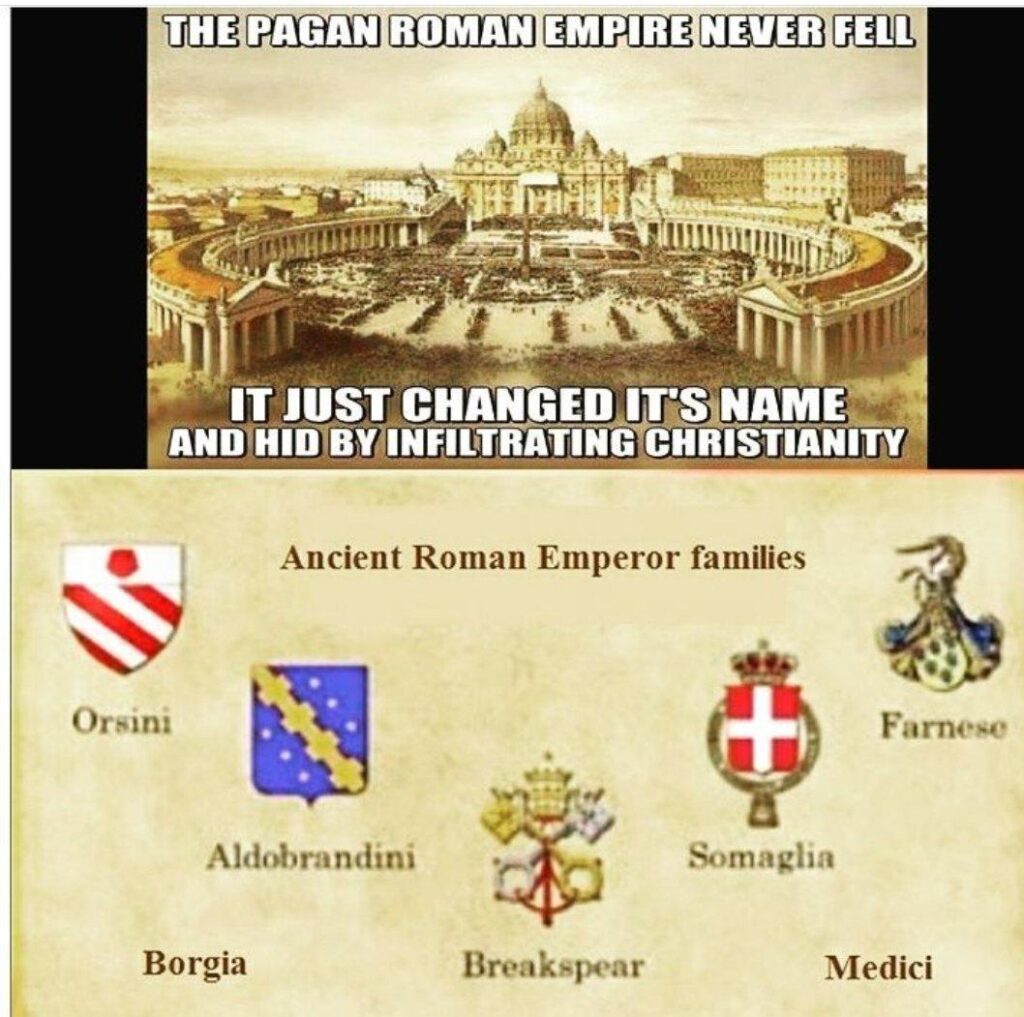 The Black Nobility use the mafia as their enforcers to keep the other secret societies in line. They also blackmail initiated members to make it difficult to get out or to speak out against them. The mafia refer to the code of silence as omerta. A common theme among initiates of secret societies is the "Shhh" symbol. The most effective way to deal with the secret societies is by first shutting down the mafia.
The Black Nobility earned its title through dirty tricks, so when the population revolted against the monopolies in government, as anywhere else (aren't we), the leaders of the uprising were quickly seized and brutally hanged. The Black Nobility uses secret assassinations, murder, blackmail, the bankrupting of opposing citizens or companies, kidnapping, rape and so on…
The Black Nobility is the most ruthless organization on the planet and they are seeking complete human enslavement and global domination. They work closely with the other royal families and they are all unified in their plot for take over while they use the tactic of divide and conquer and the illusion of compartmentalization.The Black Nobility own and run the Vatican, SMOM, Jesuits, KOC, and La Cosa Nostra. They are not all powerful and they must be dealt with. When they are exposed and resisted without fear they are the ones that tremble in fear.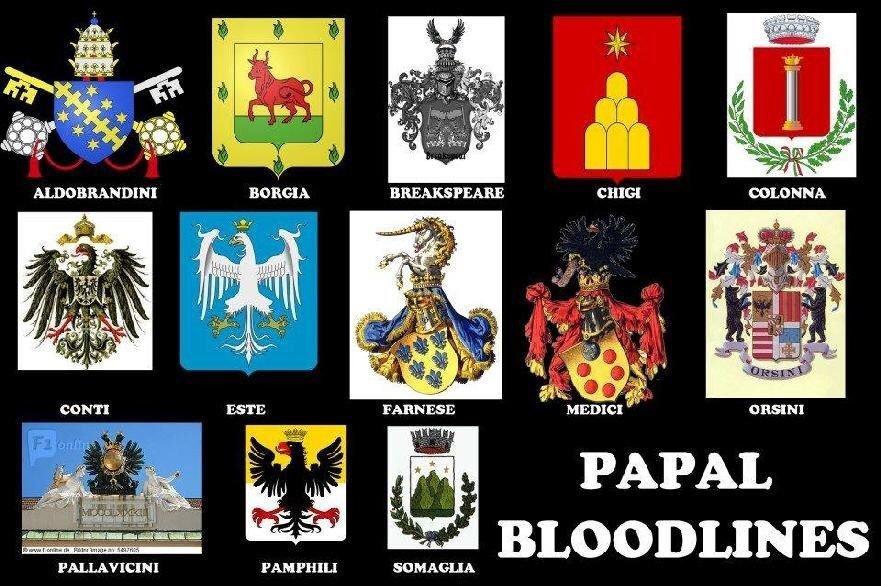 These Families Rule the World: The Shadow Forces Behind the NWO
Membership list of the Black Nobility of Italy
Prince Stefano Lucchesi-Palli of Campofranco
Count Carlo Lucchesi-Palli
Prince Nicolo Boncompagni-Ludovisi
Prince Alessandro Jacopo Boncompagni-Ludovisi
Prince Roffredo Gaetani-D'Aragona-Lovatelli
Prince Gelasio Gaetani-D'Aragona-Lovatelli
Prince Bonifacio Gaetani-Dell'Aquilla-D'Aragona
Prince Vitaliano XI Borromeo
Countess Beatrice Borromeo
Countess Matilde Borromeo
Count Carlo Fernando Borromeo
Count Carlo Borromeo II
Prince Fabrizio Massimo-Brancaccio
Prince (????) Massimo-Brancaccio the father of Giacomo
Prince Giacomo Leone Massimo-Brancaccio
Prince Stefano Massimo of Roccasecca
Prince Cesare Massimo of Roccasecca
Prince Carlo Massimo
Prince Valerio Massimo
Princess Barbara Massimo
Prince Filippo Massimo-Lancellotti
Count Stefano Massa of Sorrento
Count Sergio Massa of Sorrento
Baron Girolama de Massa and Giustiniani
Countess Beatrice Del Bono Venezze of Giustiniani-Venice
Count Vittorio Del Bono Venezze of Giustiniani-Venice
Count Matteo Giustiniani of Sardi
Count Jacopo Giustiniani of Sardi
Prince Niccolo Giustiniani
Count Leone Contini Bonacossi
Count Alberto Passi de Preposulo
Count Gian Luca Passi de Preposulo
Baron Emilio Galli-Zugaro
Baron Fabrizio Galli-Zugaro
Baron Umberto Galli-Zugaro
Marqius Riccardo Imperiali
Prince Rosario Imperiali
Prince Camillo Aldobrandini
Prince Clemente Aldobrandini
Princess Olimpia Aldobrandini-Rothschild
Countess Cristiania Agnelli Condesa Brandolini de Adda
Count Brandino Brandolini di Adda
Count Ruy Brandolini di Adda
Count Guido Brandolini di Adda
Count Lando Cerretani-Bandinelli-Paparoni
Count Ascanio Sforza-Cesarini
Count Muzio Sforza-Cesarini
Prince Giovanni Angelo Theodoli-Braschi
Princess Cosi Theodoli-Braschi
Prince Guglielmo Giovanelli Marconi
Prince Giovanni Torlonia
Prince Marino Torlonia
Prince Guido Torlonia
Count Alessandro Lequio-Torlonia
Duke Leopoldo Torlonia
Count Manfredo Paulucci de Calboli
Prince-Pastor Piero Visconti
Prince-Pastor Alessandro Paradisi
Count Massimo Pierleoni
Princess Maria Camilla Pallavicini
Prince Moroello Diaz della Vittoria Pallavicini
Prince Sigieri Diaz della Vittoria Pallavicini
Prince Filippo Rospigliosi
Prince Carlo Odescalchi
Prince Baldassare Odescalchi
Princess Lucia Odescalchi
Princess Sofia Odescalchi
Prince Vittorio Emanuele IV of Savoy and Prince of Naples
Prince Emanuele Filiberto of Savoy and Prince of Venice
Princess Clotilde of Savoy and Princess of Venice
Princess Maria Gabriella of Savoy
Princess Maria Beatrice of Savoy
Princess Maria Isabella of Savoy-Genoa
Prince Giberto di Arrivabene-Valenti-Gonzaga
Countess Bianca di Arrivabene-Valenti-GonzagaPrince Amedeo of Savoy-Aosta
Prince Aimone of Savoy-Aosta
Princess Maria Cristina of Savoy-Aosta
Prince Annibale Brivio Sforza
Princess Marta Brivio Sforza
Prince Lilio Ruspoli-Sforza
Princess Maria Pia Ruspoli
Prince Franceso Ruspoli
Princess Giacinta Ruspoli
Princess Giorgia Pacelli
Prince Francesco Pacelli
Prince Filippo Pacelli
Prince Jonathan Doria-Pamphilj
Prince Prospero Colonna di Stigliano
Prince Stefano Colonna di Stigliano
Prince Prospero Colonna di Paliano
Prince Marcantonio Colonna di Paliano
Prince Ascanio Colonna di Paliano
Prince Urbano Riario Sforza-Barberini-Colonna di Sciarra
Prince Oddone Colonna
Prince Raimondo Orsini
Prince Domenico Napoleon Orsini
Prince Girolamo Strozzi
Prince Maurizio Ferrante Gonzaga
Prince Corrado Gonzaga
Prince Filippo Corsini
Prince Duccio Corsini
Prince Lorenzo de Medici-Tornaquinci-Foscari
Prince Ottaviano de Medici
Prince Juliano de Medici
Prince Lorenzo de Medici
Prinecss Alessandra Borghese
Prince Lorenzo Borghese
Prince Scipione Borghese
Prince Urbano Sacchetti
Prince Pietro Lanza di Scalea
Prince Giuseppe Lanza di Scalea
Count Rocky Agusta
Baron Francesco Adragna
Prince Carlo of Bourbon-Two Sicilies
Princess Beatrice of Bourbon-Two Sicilies
Prince Pedro of Bourbon-Two Sicilies the Duke of Calabria
Prince Antoine of Bourbon-Two Sicilies
Prince Carlos of Bourbon-Parma
Princess Maria Pia of Savoy-Bourbon-Parma
Prince Mario Chigi-Albani
Prince Flavio Chigi-Albani
Count Neri Capponi
Count Sebastiano Capponi
Count Niccolo Capponi
Marquis Andrea Serlupi d'Ongran
Prince Domenico Serlupi-Crescenzi-Ottoboni
Prince Ettore d'Alessandro di Pescolanciano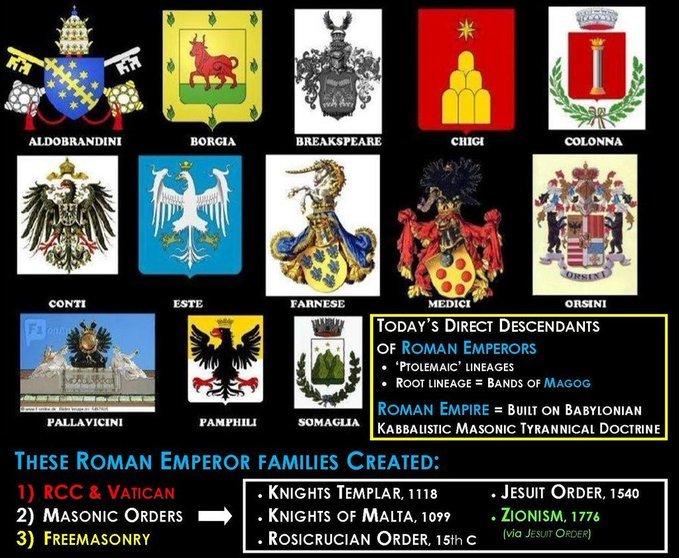 Saturnalian Brotherhood – The 13 Jesuit/Papal Bloodlines:

• House of Borja
• House of Breakspeare
• House of Somaglia
• House of Orsini
• House of Conti
• House of Chigi
• House of Colonna
• House of Farnese
• House of Medici
• House of Gaetani
• House of Pamphili
• House of Este
• House of Aldobrandini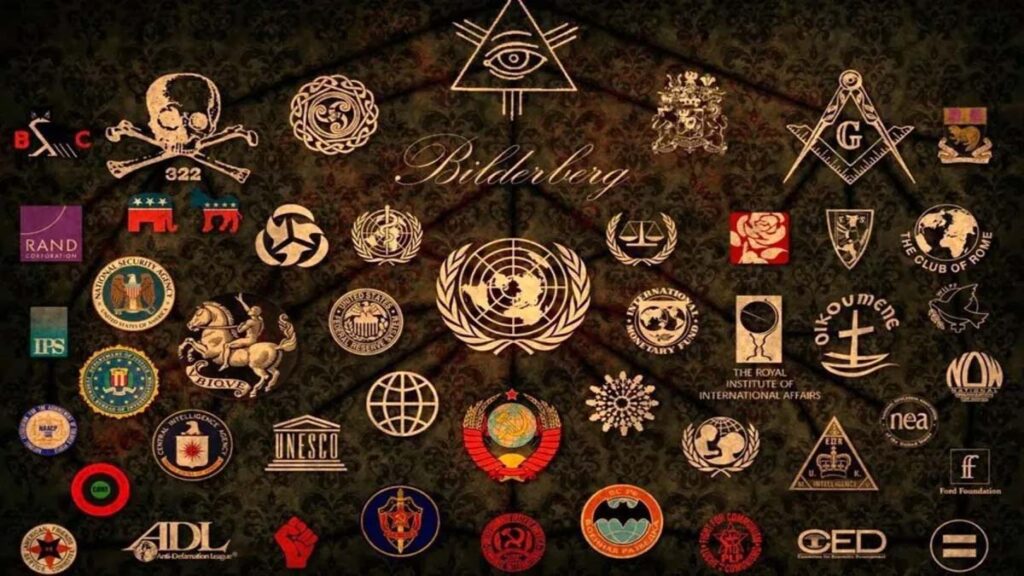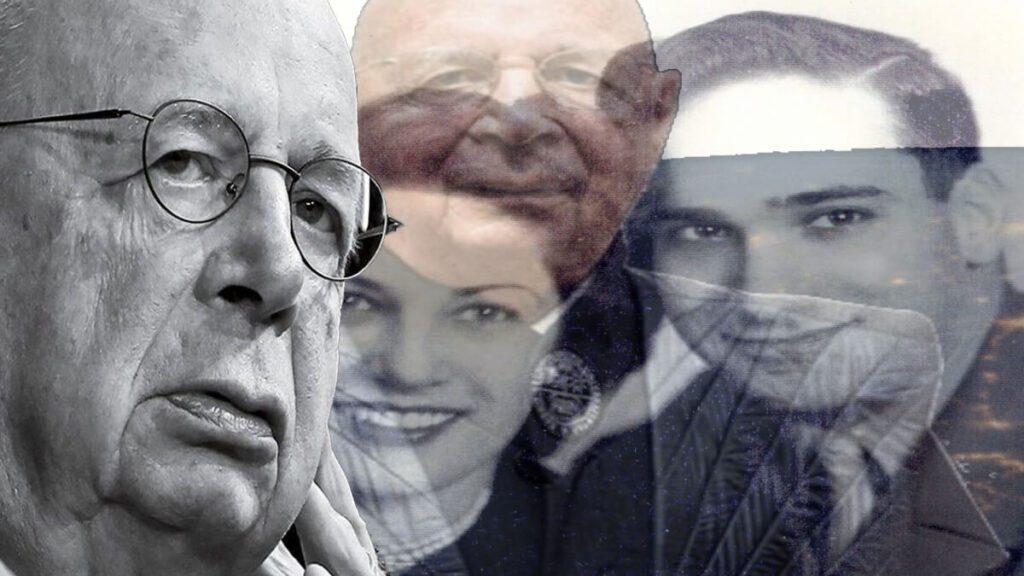 Fred Schwab was born in Frankfurt. In 1935, he managed to leave Germany. His wife,…
Danny Boy Limerick

Danny Boy Limerick is viewer funded only.
If you appreciate the content of my website and would like to help keep me going,
please consider "tipping" me for my time invested in this project.
Thanks !
Website + Resources
@DannyBoyLimerick

Telegram: https://t.me/DannyBoyLimerickLive
The Shill Hunters (Group Chat) – https://t.me/TheGoodPeopleFightingGoodFight
New You Tube Channel – https://www.youtube.com/channel/UC7GO_BP5py-JI76LWudOWMA/
Facebook Page DBL: https://www.facebook.com/dannyboylimerick2.0 (Censored Close To Unpublishing)
Facebook Page DBL 2.0: https://www.facebook.com/DannyBoyLimerick (Censored – Restricted Shadow Banned)
FB Profile: https://www.facebook.com/tyler.durdon.92754 (Banned Multiple Restrictions)
FB Profile: https://www.facebook.com/DannyBoyLimerickActive (Restricted For 90 Days)
Twitter: https://twitter.com/DannyBLimerick
Mewe: https://mewe.com/i/dannyboylimerick
The Shills Hunters: https://mewe.com/join/theshillhunters (Shill Hunters Only)
Gettr: https://gettr.com/user/dannyboyeire
Gab: https://gab.com/DannyBoyLimerick
Minds: https://www.minds.com/register?referrer=LaurelGreenNeedleDan
PocketNet (Bastyon): https://pocketnet.app/dannyboylimerick?ref=PFD6mB3CHhXq7AStVgi5XpTQ1whaSJb2bn
Donate: https://dannyboylimerick.website/donate/
Website: http://DannyBoyLimerick.website
Landing Page (Linktree)
Hash: #opWeCanSeeYou
🇮🇪💚☘️
#OpWeCanSeeYou #DannyBoyLimerick #TheMostCensoredManInIreland
---
I am a one man operation that has been trying to filter through all the "New Aged" worldwide propaganda preached to the truth community / freedom fighters through fake "truth gurus/mentors", so that i can bring you the "actual" truth. I have been doing this since 2016 and went mainstream in 2018.
These "wolves in sheeps clothing" are "planted" within the community as "Gatekeepers" to, sow division, utilize delay/deflect tactics misinform and mislead the "free-thinkers" or anyone that opposes the "Occultist Hidden Hand" or "Shadow Government" , straight to the slaughterhouse.
I would like to say thanks to all the fellow "watchmen", "Shill Hunters" and "Genuine truthers/researchers/free thinkers" working tirelessly around the clock out there, putting yourself in the trenches, laying it all on the line by sounding the alarm over the last several years, sacrifices have been made, reputations tarnished, online friends and family members have been lost and lots more put on the back burner. You are the real warriors of the so called "End Times". The unsung Heroes.
Nobody said it was going to be easy. Keep On Fighting The Good Fight.
---
FAIR USE NOTICE:
This site contains some copyrighted material the use of which has not always been specifically authorized by the copyright owner.
We are making such material available in our efforts to expose and advance the understanding of the issues covered here.
We believe this constitutes a 'fair use' of any such copyrighted material.