Cancer-Causing Ethylene Oxide Is On All Rapid Antigen Lateral Flow Test Kits.
After watching this video on telegram i decided to do a little digging around and research the health impacts of ETHYLENE OXIDE which is widely used today to 'supposedly "STERILIZE" masks, respirators and the very swabs that the government will have their health departments shove back deep up your childrens noses compromising their blood/brain barrier multiple times a week in school, if necessary. Enter – 'The Ethylene Oxide' doused Covid Swab !
---
---
COVID-19, Swabs, Ethylene Oxide, and Warehouses
https://www.gasdetection.com/gas-detection-knowledge-base/interesting-applications/covid-19-swabs-ethylene-oxide-and-warehouses/
---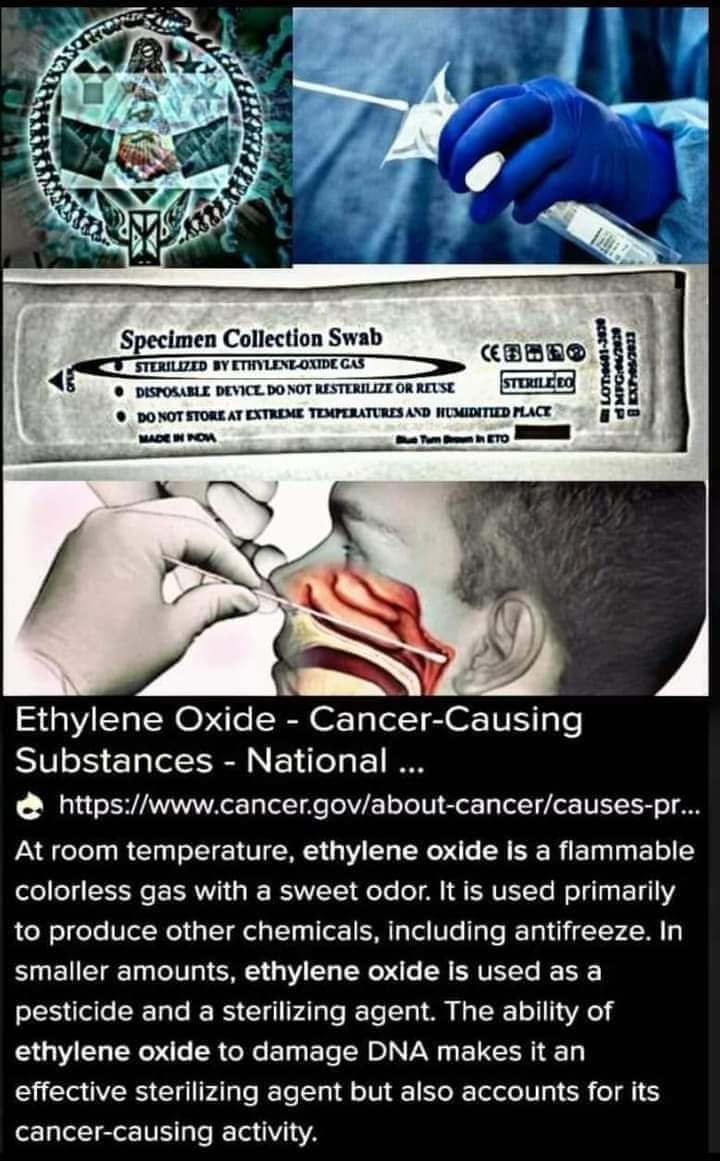 ---
What Is Ethylene Oxide?
On July 19, 2019, WebMD published an article on ethylene oxide and cancer, which contained eye-opening information about this chemical and the increased risk of cancer in our communities. It turns out that our communities have been exposed to very high levels of ethylene oxide for decades and many of our residents are becoming sick.
Fighting COVID-19? The Double Face of Ethylene Oxide (EO)
'Extremely hazardous': Alert warns against using ethylene oxide to sterilize masks, respirators
https://www.safetyandhealthmagazine.com/articles/19951-extremely-hazardous-alert-warns-against-using-ethylene-oxide-to-sterilize-masks-respirators
Ethylene oxide in connection with lateral flow tests
https://www.whatdotheyknow.com/request/ethylene_oxide_in_connection_wit
DuckDuckGO Search "ETHYLENE OXIDE HEALTH EFFECTS"
Google Search "ETHYLENE OXIDE"
Is ethylene oxide toxic to humans?
At room temperature, ethylene oxide is a flammable colorless gas with a sweet odor. It is used primarily to produce other chemicals, including antifreeze. In smaller amounts, ethylene oxide is used as a pesticide and a sterilizing agent.
Acute exposures to EtO gas may result in respiratory irritation and lung injury, headache, nausea, vomiting, diarrhea, shortness of breath, and cyanosis. Chronic exposure has been associated with the occurrence of cancer, reproductive effects, mutagenic changes, neurotoxicity, and sensitization.
Is ethylene oxide banned in Europe?
Yes, ETO for food sterilization is banned in most European countries, Japan and few other Asian countries.
Ethylene Oxide 75-21-8 Hazard Summary
https://www.epa.gov/sites/production/files/2016-09/documents/ethylene-oxide.pdf
Danny Boy Limerick

Danny Boy Limerick is viewer funded only.
If you appreciate the content of my website and would like to help keep me going,
please consider "tipping" me for my time invested in this project.
Thanks !
Website + Resources
@DannyBoyLimerick

Telegram: https://t.me/DannyBoyLimerickLive
The Shill Hunters (Group Chat) – https://t.me/TheGoodPeopleFightingGoodFight
New You Tube Channel – https://www.youtube.com/channel/UC7GO_BP5py-JI76LWudOWMA/
Facebook Page DBL: https://www.facebook.com/dannyboylimerick2.0 (Censored Close To Unpublishing)
Facebook Page DBL 2.0: https://www.facebook.com/DannyBoyLimerick (Censored – Restricted Shadow Banned)
FB Profile: https://www.facebook.com/tyler.durdon.92754 (Banned Multiple Restrictions)
FB Profile: https://www.facebook.com/DannyBoyLimerickActive (Restricted For 90 Days)
Twitter: https://twitter.com/DannyBLimerick
Mewe: https://mewe.com/i/dannyboylimerick
The Shills Hunters: https://mewe.com/join/theshillhunters (Shill Hunters Only)
Gettr: https://gettr.com/user/dannyboyeire
Gab: https://gab.com/DannyBoyLimerick
Minds: https://www.minds.com/register?referrer=LaurelGreenNeedleDan
PocketNet (Bastyon): https://pocketnet.app/dannyboylimerick?ref=PFD6mB3CHhXq7AStVgi5XpTQ1whaSJb2bn
Donate: https://dannyboylimerick.website/donate/
Website: http://DannyBoyLimerick.website
Landing Page (Linktree)
Hash: #opWeCanSeeYou
🇮🇪💚☘️
#OpWeCanSeeYou #DannyBoyLimerick #TheMostCensoredManInIreland
---
I am a one man operation that has been trying to filter through all the "New Aged" worldwide propaganda preached to the truth community / freedom fighters through fake "truth gurus/mentors", so that i can bring you the "actual" truth. I have been doing this since 2016 and went mainstream in 2018.
These "wolves in sheeps clothing" are "planted" within the community as "Gatekeepers" to, sow division, utilize delay/deflect tactics misinform and mislead the "free-thinkers" or anyone that opposes the "Occultist Hidden Hand" or "Shadow Government" , straight to the slaughterhouse.
I would like to say thanks to all the fellow "watchmen", "Shill Hunters" and "Genuine truthers/researchers/free thinkers" working tirelessly around the clock out there, putting yourself in the trenches, laying it all on the line by sounding the alarm over the last several years, sacrifices have been made, reputations tarnished, online friends and family members have been lost and lots more put on the back burner. You are the real warriors of the so called "End Times". The unsung Heroes.
Nobody said it was going to be easy. Keep On Fighting The Good Fight.
---
FAIR USE NOTICE:
This site contains some copyrighted material the use of which has not always been specifically authorized by the copyright owner.
We are making such material available in our efforts to expose and advance the understanding of the issues covered here.
We believe this constitutes a 'fair use' of any such copyrighted material.