⚠️ Warning ⚠️
"Rumble" Video Hosting Is Not Your Friend ✋🛑🎥📽️📺
RUMBLE HAVE DELETED MY ACCOUNT AND WITH IT, ALL OF THE VIDEO EMBEDS ON THIS WEBSITE DEEMING THE WEBSITE USELESS FOR THE MOST PART
I got booted off of the video hosting platform "RUMBLE" without any prior notification or warnings, whatsoever. The last 2 emails I received from rumble team was simply to notify me that there were 2 unread comments for me to view, when i went in to check them, I discovered that the account "no longer existed"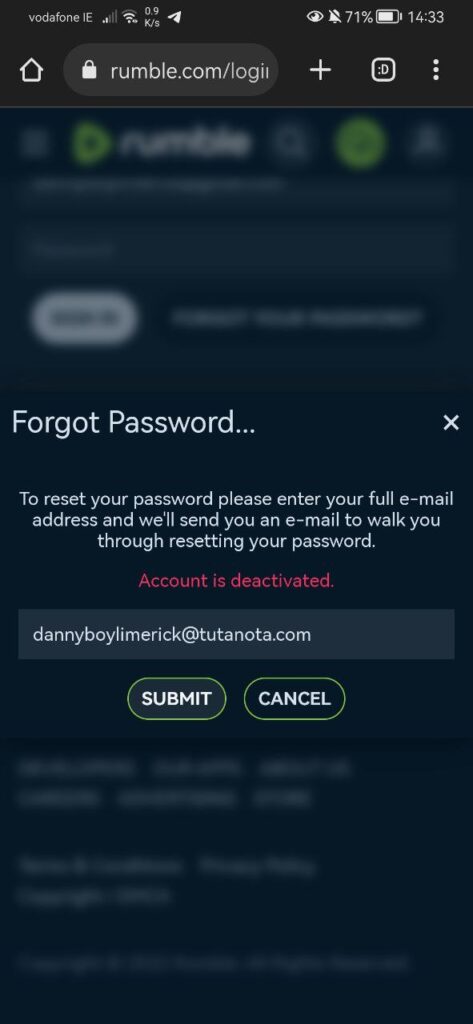 Luckily for me I have all the videos backed up and I think I'll wait and upload them to my own server instead.
I have built my own social media platform instead, to escape the existing horrors of the dystopian existing social networking platforms out there, tirelessly trying to evade totalitarian censorship systems.
All you have to do is look at the options when signing up for rumble , the choices we have are
– Sign Up With Facebook
– Sign Up With Google
– Sign Up With Email
All cut from the same cloth.
All corporate owned shillbag controlled opposition platforms.
What's the safest and best uncensored website hosting server companies out there where I can set up my own video hosting website ????? (Answers in the comment section below, please)
Basically I'll design my own you tube but I'll need a safe place to host it.
Please and thanks in advance.
ENTER YACK BACK ! ! ! ! ! !
It's time To Start YAKING BACK Against Technocratic Dictatorship !

The west especially has only recently come round to having rational considered discusions on immigration…
Danny Boy Limerick

Danny Boy Limerick is viewer funded only.
If you appreciate the content of my website and would like to help keep me going,
please consider "tipping" me for my time invested in this project.
Thanks !
Website + Resources
@DannyBoyLimerick

Telegram: https://t.me/DannyBoyLimerickLive
The Shill Hunters (Group Chat) – https://t.me/TheGoodPeopleFightingGoodFight
New You Tube Channel – https://www.youtube.com/channel/UC7GO_BP5py-JI76LWudOWMA/
Facebook Page DBL: https://www.facebook.com/dannyboylimerick2.0 (Censored Close To Unpublishing)
Facebook Page DBL 2.0: https://www.facebook.com/DannyBoyLimerick (Censored – Restricted Shadow Banned)
FB Profile: https://www.facebook.com/tyler.durdon.92754 (Banned Multiple Restrictions)
FB Profile: https://www.facebook.com/DannyBoyLimerickActive (Restricted For 90 Days)
Twitter: https://twitter.com/DannyBLimerick
Mewe: https://mewe.com/i/dannyboylimerick
The Shills Hunters: https://mewe.com/join/theshillhunters (Shill Hunters Only)
Gettr: https://gettr.com/user/dannyboyeire
Gab: https://gab.com/DannyBoyLimerick
Minds: https://www.minds.com/register?referrer=LaurelGreenNeedleDan
PocketNet (Bastyon): https://pocketnet.app/dannyboylimerick?ref=PFD6mB3CHhXq7AStVgi5XpTQ1whaSJb2bn
Donate: https://dannyboylimerick.website/donate/
Website: http://DannyBoyLimerick.website
Landing Page (Linktree)
Hash: #opWeCanSeeYou
🇮🇪💚☘️
#OpWeCanSeeYou #DannyBoyLimerick #TheMostCensoredManInIreland
---
I am a one man operation that has been trying to filter through all the "New Aged" worldwide propaganda preached to the truth community / freedom fighters through fake "truth gurus/mentors", so that i can bring you the "actual" truth. I have been doing this since 2016 and went mainstream in 2018.
These "wolves in sheeps clothing" are "planted" within the community as "Gatekeepers" to, sow division, utilize delay/deflect tactics misinform and mislead the "free-thinkers" or anyone that opposes the "Occultist Hidden Hand" or "Shadow Government" , straight to the slaughterhouse.
I would like to say thanks to all the fellow "watchmen", "Shill Hunters" and "Genuine truthers/researchers/free thinkers" working tirelessly around the clock out there, putting yourself in the trenches, laying it all on the line by sounding the alarm over the last several years, sacrifices have been made, reputations tarnished, online friends and family members have been lost and lots more put on the back burner. You are the real warriors of the so called "End Times". The unsung Heroes.
Nobody said it was going to be easy. Keep On Fighting The Good Fight.
---
FAIR USE NOTICE:
This site contains some copyrighted material the use of which has not always been specifically authorized by the copyright owner.
We are making such material available in our efforts to expose and advance the understanding of the issues covered here.
We believe this constitutes a 'fair use' of any such copyrighted material.